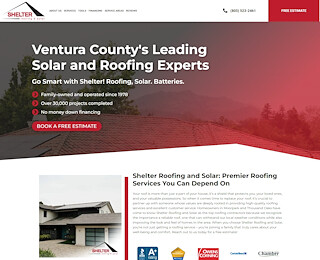 Thinking of a solar installation in Moorpark, but you are not sure if you can afford it? Don't worry! Shelter Roofing and Solar has finance and PPA options available to qualified applicants. Shelter Roofing and Solar is the best option for solar installations in Moorpark, as we offer the best solar products and installations at the lowest possible prices. Call us today if you would like to discuss our Power Purchase Agreements and finance options in-depth and to see if you qualify. You'll be pleasantly surprised to learn that you can potentially eliminate your electric bill completely and own your solar system with affordable monthly payments when you purchase from Shelter Roofing and Solar.
Get Your Solar Installation and Start Saving Money
The first step in getting your solar installation is to contact a reputed solar installer in Moorpark. Feel free to contact more than one roofing contractor and get multiple quotes. When you compare the services of Shelter Roofing and Solar with the prices with our competitors, we are confident that you will choose us. When you contact Shelter Roofing and Solar, we will schedule an initial consultation where one of our highly skilled technicians will meet with you in-person and inspect your home. During the inspection, we will determine if you are a good candidate for a solar system.
If you are a good candidate and you qualify for financing, then we will customize an installation for your home. We'll draw up the plans, and as soon as you sign off on them, we can begin the actual installation process.
No Solar Installation is Too Small or Too Large for Shelter Roofing and Solar

Whether your budget is large or small, you will be pleased to learn that Shelter Roofing and Solar utilizes the best products and technology on the market, meaning that we can typically create a high-quality solar installation solution that fits your needs and goals within the budget you've set forth. Plus, Shelter Roofing and Solar is the best choice for home solar installation in Moorpark because we provide a 100% warranty on all of our solar installations. For example, Shelter Roofing and Solar offers a 10-year craftsmanship warranty on all photovoltaic solar installations, a 25-year production warranty, and a 12-year warranty on all inverters.
Why Choose Shelter Roofing and Solar for Your Home Solar Installation in Moorpark?
Shelter Roofing and Solar has been installing solar panels for more than ten years now, and we have a lot of satisfied clients who will gladly vouch for the work we did for them. Feel free to check out many of our 5-star rave reviews right here on our website, and you may also check us out on social media as well as other review sites. We prefer to let our past clients speak for themselves.
When you need a solar installation in Moorpark, it is key that you choose the right company. If not installed correctly, your solar system might not work properly, and it might even pose a safety risk. Contact Shelter Roofing and Solar today and get the job done right the first time.
Solar Installation Moorpark
Shelter Roofing and Solar
805-523-2461
4829 Mira Sol Dr
Moorpark
CA
93021
View Larger Map
We welcome your comments!