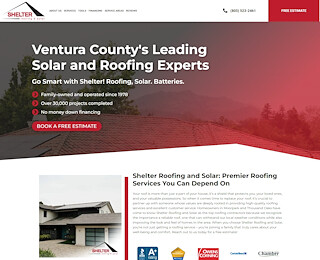 One of the main reasons you should hire a solar company in Moorpark is to save money. This may seem counter-intuitive, but hiring the right solar company can save you money now and later. Shelter Roofing and Solar offers a number of financing options to our valued clients to compliment every need and budget. Just let us know how we can help you make your solar installation more affordable.
Why You Need a Solar Company in Moorpark

When you hire Shelter Roofing and Solar, we provide a complete solar installation every time. However, if you try to do it yourself, thinking that you can save money by doing so, you will soon find out that solar panel installation is not a one-man job. There is electrical work involved, designs have to be drawn up, the structural integrity of your home must be minded, and of course, you need to make sure your solar installation is done properly for a safe and efficient solar system that works for years to come.
Indeed, there are a lot of different pieces that go into a solar installation. Installing solar panels on a home is a job for a team, so hire a team. Shelter Roofing and Solar is the team that you need!
Shelter Roofing and Solar Will Keep You in Compliance
Chances are; even if you know how to do the work yourself, you still need an expert to keep you in compliance with laws and regulations. There are city, county, and state ordinances that must be factored into every solar installation, and that is one of the top reasons why hiring a solar company in Moorpark makes sense.
For example, do you know how far the panels can go on your roof? Do you know how much can be provided back to the utility company? There are a lot of things that you likely don't know because only professionals typically mind these things. At the end of the day, it just doesn't make sense to chance it when you're talking about saving a few hundred, or at most, a couple of thousand dollars. That little bit of money that you save now by cutting corners might come back to haunt you later on!
Other Reasons Why You Should Hire a Solar Company in Moorpark
This is just scratching the surface! There are a lot of other pieces that go into play when we are dealing with solar panel installation. For example, choosing the right inverter, choosing the right products, and making sure you have all of the proper tools and equipment for a safe and proper installation. It's always a good idea to hire the professionals who will do all of the hard work for you, know all the laws, and use the best practices on every job.
Shelter Roofing and Solar wants to make sure that you have all of the information that you need before you hire a solar company in Moorpark. We invite you to contact us or keep reading for more information about solar installations.
Solar Company Moorpark
Shelter Roofing and Solar
805-523-2461
4829 Mira Sol Dr
Moorpark
CA
93021
View Larger Map
We welcome your comments!