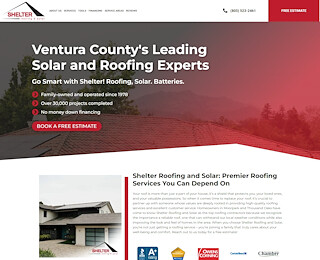 If you are installing a new roof, replacing, or repairing an existing roof, you probably want to make sure that you hire the best roofers in Ventura County. Before choosing a roofer, taking one to two hours to do a little online research could save you thousands (if not tens of thousands) of dollars over the long-run and could be the difference between a positive or negative overall experience with your roofing contractor.
If you are starting your research, why not start here? Shelter Roofing and Solar is a reputed roofing company in Ventura County, and with 40 years of roofing experience, you can rely on the expertise we bring to the table. With a 4.5-star review on Yelp with 31 current reviews, you can trust that Shelter Roofing and Solar puts its money where its mouth is. We deliver stellar results every time, finishing each roofing job on time and under budget.
After 40 years of working in our community, most of our new clients are acquired through word of mouth recommendations and rehires. We are still getting rehired by clients we worked for 25 to 35 years ago, whether it's for new roof installation or solar panel installation. It's saying something when a client remembers the work you did 30 years later!
We are Affordable Roofers in Ventura County
You would think that after 40 years in the business, almost a perfect 5-star rating across all review sites, and countless jobs to showcase; Shelter Roofing and Solar should be the most expensive roofers in Ventura County. After all, it makes sense. Most businesses spend years establishing a reputation for excellence so they can charge more for their services and be more profitable. And while Shelter Roofing and Solar certainly isn't the cheapest roofing contractor in Ventura County, we're not the most expensive either! We're a happy medium.
How We Save Money for Our Clients
Rather than pay more than what you should for roofing services or pay very little and get a poor job done, you could pay the right price and actually save money with us. Why spend less money now just to pay more money later for repairs or a complete roof redo? Why pay more for the super-ridiculously expensive roofing contractors when you could save money with Shelter Roofing and Solar?
Since we've been in business for so long, Shelter Roofing and Solar has developed relationships with many of the best material suppliers on the West Coast. This means that we have multiple material suppliers to choose from, and we can shop around for the premium materials that will last a lifetime at the lowest prices.
By using the best equipment, best protocols, and best procedures, Shelter Roofing and Solar guarantees a job well done quickly. Plus, we offer a full warranty on all of our labor and roofing installations. Additionally, our company is licensed and insured so that our clients - commercial or residential - assume no risk of liability in the event of an accident. Call us if you need affordable professional roofers in Ventura County.
Shelter Roofing and Solar
805-523-2461
4829 Mira Sol Dr
Moorpark
CA
93021
View Larger Map
We welcome your comments!