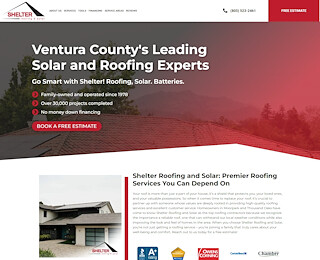 Are your shingles in shambles? Come to Shelter Roofing and Solar for an expert roofer in Moorpark who will gladly repair or replace your roof. We provide free consultations and estimates. Call us when you are ready to take action and do something about your problem roof.
What's the First Step When Hiring a Roofer in Moorpark?
During your no-cost, in-home roofing consultation, Shelter Roofing and Solar will perform a comprehensive walk-around to determine your specific needs. With 40 years in the business, you can rely on our experienced eye to accurately assess and detect all of your roofing needs.
What Roofing Options Do I Have?
Shelter Roofing and Solar has several lines of shingles and roofing systems that will fit your preference, needs, and budget. A professional roofer will go over all of your roofing options with you when we provide you with a free in-home consultation.
How Can I Pay for a Professional Roofer in Moorpark?
Shelter Roofing and Solar offers a number of payment plans and financing options to make sure that everyone gets the roofing services they need. At Shelter Roofing and Solar, no job is too big or too small for us!
What Does a Roofer Do?
We will go over your home with you and discuss any of the unkowns to make sure that your roof is installed properly the first time. We'll measure your roof to make sure we give you an accurate estimate for your roofing project. We'll also need to inspect your attic to make sure there is no damaged or rotted wood before starting.
Who Will be My Main Contact?
Once we are ready to begin your new roof installation, a project coordinator will be assigned to you. Serving as your point of contact, your PC will assist with a wide range of tasks, including scheduling, obtaining your permits, and answering any questions that you may have. Any time you have a need or concern, you will be able to contact your project coordinator directly.
Are Our Roofers Messy?
While Shelter Roofing and Solar is working on your property, our roofing technicians will protect your plants and clean any job-related debris every day. We'll make sure that your property is clean and professionally managed until we are finished working.
How Do I Know that the Work Will be Done Correctly?
Before we begin your roofing project, Shelter Roofing and Solar uses state-of-the-art software that provides us with aerial photos, accurate roof measurements, and ensures that we will deliver the correct amount of materials to your home.
What Happens After My Roof is Complete
After your roof has been installed, a separate third-party company will conduct a thorough inspection ensuring that your new roof is up to code.
What if I Have Problems with My Roof?
Shelter Roofing and Solar offers home warranties to protect our clients' homes through and through! Should you encounter a problem with your new roof while it is under warranty, Shelter Roofing and Solar will fix it or replace it at no additional cost to you.
Roofer Moorpark
Shelter Roofing and Solar
805-523-2461
4829 Mira Sol Dr
Moorpark
CA
93021
View Larger Map
We welcome your comments!